Eric Albert Zimmer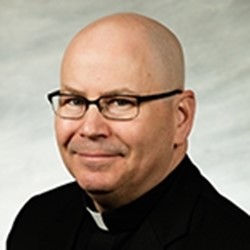 Associate Teaching Professor
Management & Organization
574-631-4133
219 Mendoza College of Business
Biography
Background
Presentations
Rev. Dr. Eric Albert Zimmer, Associate Teaching Professor, teaches business communication courses including Negotiation and Advanced Writing for Accounting Professionals for the Mendoza College of Business. His research focuses on the adoption of innovation in non-profit organizations, on fundraising practices of nonprofits, on low power FM radio, on the Digital Divide and on the Matthew Effect.
His teaching includes stints at Georgetown University and Creighton University School of Medicine.
His publications include articles in political communication, health communication and policy, information and communication technology, including in the Journal of the American Medical Association, Communication Trends, and the American Journal of Public Health.
Fr. Zimmer holds a PhD in Communication Theory (Pennsylvania), an MBA in Finance (Chicago), an MDiv and a Licentiate in Sacred Theology (STL) from the Jesuit School of Theology at Berkeley, an MA in English (Minnesota). His bachelor's degree, in philosophy, is from Loyola University in New Orleans.
Education
MBA, University of Chicago Booth School of Business
Ph D, University of Pennsylvania
License in Sacred Theology, Jesuit School of Theology at Berkeley
Master of Divinity, Jesuit School of Theology at Berkeley
MA, University of Minnesota Twin Cities
BA, Loyola University New Orleans
Areas of Expertise
Communication
Diffusion of Innovation
Non-profit Organizations
Teaching
Advanced Speaking for Business
Negotiation
Strategic Writing
Management Speaking
Negotiations
Management Writing
Management Communication
Advance Writing for Accounting Professionals
Business Speaking
Directed Reading: Advanced Writing for Accounting Professionals
"Negotiation: Art & Science", AMD International Conference on Sales & Marketing, 2015