Joseph Sweeney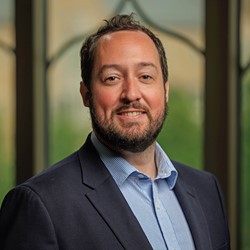 Academic Director of the MBA Programs; Assistant Teaching Professor
Management & Organization
574-631-6844
227 Stayer Center for Executive Education
Joe Sweeney is an Assistant Teaching Professor in the Management & Organization Department. His primary teaching focus is within the Meyer Business on the Frontlines Program with a focus on international partnerships and further development of new courses to serve partners closer to Notre Dame's campus.

Joe's passion for utilizing the tools of business to serve communities suffering from some of the world's toughest challenges was honed in the field, first as a student in Egypt, and later as an advisor to student teams serving in Ghana, Tunisia, and Colombia. His work has explored key sectors such as agriculture, mining, and renewable energy, focusing on job creation and setting the economic conditions for growth. As an instructor, his teams have explored additional challenges including remote supply chains, human trafficking, business education, and illicit economies.

Prior to joining the faculty at Notre Dame, Joe served in multiple roles within Mendoza's MBA program staff, focusing on recruitment and experiential learning. Joe is a Double Domer with undergraduate majors in Political Science and Arabic Studies, as well as an MBA from the Mendoza College of Business. His professional career includes multiple roles in the wine industry, including production, marketing and management of luxury brand portfolios from Oregon, New York, New Zealand, Argentina, France, and California. In addition to professional interests, Joe enjoys traveling and is an avid amateur photographer.
Education
MBA, University of Notre Dame
BA, University of Notre Dame