Scott Nestler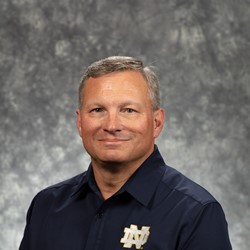 Academic Director of the Master of Science in Business Analytics (MSBA) program and Associate Teaching Professor
IT, Analytics, and Operations
574-631-8117
338 Mendoza College of Business
Biography
Background
Publications
Books
Presentations
Awards
Dr. Scott Nestler is the Academic Director for the on-campus M.S. in Business Analytics program. He is also a Faculty Affiliate of iNDustry Labs, the University's dedicated platform for collaboration with local industry partners, providing strategic insight, expertise, and technical resources to regional businesses seeking to thrive in the digital age of manufacturing. Additionally, he is a Faculty Affiliate of the ND Technology Ethics Center (ND-TEC), which develops and supports multi- and inter-disciplinary research on questions related to technology's impact on humanity.
Scott joined Mendoza College of Business as an associate teaching professor after he retired from the U.S. Army after more than 25 years of service. Most recently, he was the Force Strategy Division Chief at the Center for Army Analysis. Previously, he taught at the Naval Postgraduate School and the U.S. Military Academy at West Point. He has served as an analyst and leader of analytic teams in various locations, including the Pentagon and the U.S. Embassy in Baghdad, Iraq.
Nestler has a Ph.D. in management science from the University of Maryland – College Park, a master's in strategic studies from the Army War College, an M.S. in applied mathematics from the Naval Postgraduate School, and a B.S. in civil engineering from Lehigh University. Additionally, he is active in the Institute for Operations Research and the Management Sciences (INFORMS).
Education
MS, U.S. Army War College
Ph D, University of Maryland - College Park
MS, Naval Postgraduate School
BS, Lehigh University
Areas of Expertise
Sports Analytics
Ethical Use of Data & Analytics
Financial & Project Portfolio Analysis
Decision & Risk Analysis
Forecasting & Predictive Modeling
Talent & Workforce Analytics
Data & Information Visualization
Reliability & Prognostics
Editorial Boards
Ad Hoc Reviewer
ACM Transactions on Computer Human Interface
January, 2017

Ad Hoc Reviewer
Decision Sciences
January, 2017

Ad Hoc Reviewer
INFORMS Transactions on Education
August, 2016

"Mathletics"
, (With Wayne Winston, Kostas Pelechrinos),
Princeton University Press
, 2020 -
Accepted (awaiting publication)
"The Variance Gamma Distribution", (With Andrew Hall), Significance (ASA / RSS), 2019
"Statistics in Pursuit of Social Justice", (With Harrison Schramm, Tracey Koehlmoos), Significance (ASA / RSS), 2018
"Using the INFORMS Ethical Guidelines in the Classroom", (With David Hunt), OR/MS Today, 41, 2017
"P-values in Operations Research", (With Harrison Schramm), OR/MS Today, 43, 2016
"Analytics Rising: Certified Analytics Professional in the DoD", (With Aaron Burciaga), PHALANX: The Magazine of National Security Analysis, 47, 2014
"Military OR and Sports Analytics", MORS Talks, 2020
"Data Ethics and Decision-Making", Institute for Defense Analyses (IDA), 2020
"Which League Does the Best Job of Retaining its Sponsors? Results from a Semi-parametric Survival Model", Sport Marketing Association, 2019
"INFORMS Editor's Cut Panel", INFORMS Annual Meeting 2019 (Seattle), 2019
"Moneyball on Campus -- As Experiential Learning", INFORMS Annual Meeting 2019 (Seattle), 2019
"Capstone Projects: Learning From the Real World While Still in School", INFORMS Annual Meeting 2019 (Seattle), 2019
"Data Ethics for Leaders and Legislators", AI, Analytics, & Government, 2019
"Data Ethics for Leaders", U.S. Army War College, 2019
"Using Vignettes with Narratives & Counter-Narratives to Teach Ethics in Data Science and Business Analytics", Including Ethics in Data Science Pedagogy, 2019
"Learning by Doing: Sports Analytics at Notre Dame", Indiana University Purdue University Indianapolis (IUPUI), 2019
"Learning by Doing: Sports Analytics at Notre Dame", Ball State University Sports Analytics Class, 2019
"Using Checklists and Ethical Matrices in Data Science", Notre Dame Data Science Immersion, 2019
"Analysis of Potential NCAA Basketball Rules", INFORMS Annual Meeting 2018 (Phoenix), 2018
"INFORMS Editor's Cut Panel", INFORMS Annual Meeting 2018 (Phoenix), 2018
"College Football Playoff Ticket Option Pricing", Carnegie Mellon University Sports Analytics Conference, 2018
"Ethical Considerations in Data Science & Analytics", Harrisburg University Distinguished Speaker Series in Data Analytics and Applied AI, 2018
"Panel: So Are They Friends or Foes?", Notre Dame Conference on AI & Ethics, 2018
"Analysis of Potential NCAA Basketball Rule Changes", Great Lakes Analytics in Sports Conference, 2018
"Ethical Considerations in Data Science & Analytics: Should We? Not Just Can We", SoCal Big Data Summit, 2017
"Teaching Sports Analytics", INFORMS Annual Meeting 2017 (Houston), 2017
"A Data-Driven and Value-Focused Thinking Approach to an Analytics Job Search", INFORMS Annual Meeting 2017 (Houston), 2017
"INFORMS Volunteer Service Award - Gold (Distinguished) Level", Institute for Operations Research and the Management Sciences, 2019