Aimee Cole-Laramore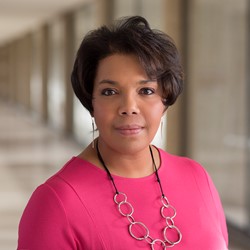 Adjunct Assistant Teaching Professor
Management & Organization
574-631-6183
318 Mendoza College of Business
Aimée Cole-Laramore is a sought-after consultant, trainer and speaker whose areas of expertise include: Diversity in Development; The Implications of Donor Demographics in Faith-based Giving; Creating a Culture of Generosity; Expanding the Understanding of Philanthropy; and The Spirituality of Fundraising. She is a passionate teacher, trainer, consultant, and coach with more than two decades of experience. Organizational Capacity Building is her core business.
Her current work in pursuit of nonprofit excellence can be seen with Northminster Presbyterian Church, Indiana Minority Health Coalition, Woman Preach! and Horizons Stewardship. A strategic thought leader and non-profit administrator, her passion is the pursuit of excellence with an orientation toward Intentional Progress Over Perfection. There is an intentional diversity among ALlyd clients which include: medical, religious, non-profit, academic and research institutions. She has worked with congregations in rural and urban settings, across denomination and socio-economic structures; and has an astute understanding of the role theology, executive leadership styles and diversity play in philanthropic infrastructure.
Owner/Lead Consultant for ALlyd Image Solutions (Fishers, IN), a boutique consulting firm dedicated to building organizational capacity and effective development practices, Aimee has also served successfully in leadership roles throughout a variety of mission driven agencies across the country, in the health, human services and community development fields. She has presented at over 90 congregations, seminaries, development conferences, and leadership training events through her posts as Associate Director of Lake Institute on Faith & Giving, Director of Seminary Advancement for Christian Theological Seminary and in her consulting role. Her influence can be found in the Lake Institute Executive Certificate for Religious Fundraising and Creating Congregational Cultures of Generosity courses where she served as a lead presenter, in addition to workshops and seminars across the nation with the Spirituality of Fundraising, Fundraising as Ministry and efforts to systematically address fostering a culture of generosity and shaping intentional diversity in giving as the focus.
Specializing in facilitation, strategic planning and outcomes-based measurement, her work can be seen through more than 120 non-profit agencies within the Midwest region. She currently dedicates her time as Philanthropic Strategist for the first PhD in African American Preaching and Sacred Rhetoric, led by Dr. Frank A. Thomas. The bold vision of the program is to ensure that there is no life altering debt for students who enroll in the program, while raising endowment funds to secure sustainability for the directorship, sponsored scholarships and long-term operational excellence. Aimée serves as Affiliate Faculty for the University of Notre Dame where she teaches Board Governance and Nonprofit Management, in addition to Fund Development for Nonprofit Organizations for Mendoza College of Business.
Her generosity can be seen in institutions, nonprofit organizations and intermediaries across the country. An active volunteer in her local community, she serves on the advisory board for the Katie G. Cannon Center for Womanist Leadership and the Board of Visitors for the Howard University School of Divinity. She is a charter member of Jack and Jill of America, Inc., Circle City Chapter and a proud member of Alpha Kappa Alpha Sorority, Inc. for more than 25 years. Her background in community organizing, economic development and the intersection of faith and giving, has fostered her fundraising effectiveness with diverse demographic data, infrastructure development, relationship building and vision alignment. She is passionate about nonprofit excellence and capacity building in faith communities and the world.