Daniel Murphy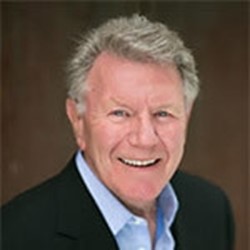 Adjunct Assistant Teaching Professor
Finance
574-631-6370
318 Mendoza College of Business
Mr. Murphy has 49 years of experience in the development, operation, and asset management of commercial real estate. He began his career in 1971 as a commercial real estate broker working in a family-owned business specializing in leasing. During the mid-1970's he became a partner with Syracuse, New York-based Pioneer Development Company. He became the partner in charge of office leasing and development, and he served on the company's Executive Committee. During his 22-year tenure at Pioneer, Mr. Murphy also served as the company's Director of Property Management for a two-year period.
Since 1998, Mr. Murphy has been a principal with Pioneer's Denver affiliate, Continuum Partners, and for a time served as the company's Chief Operating Officer. He was also responsible for executive oversight of designated projects, is the Director of Office Leasing and Development, and is a member of the company's Executive Committee participating in all critical development, operational, financing and disposition strategies. Over his development career Mr. Murphy has been involved at an executive level with projects having a value of approximately $2.5 billion, and which consist of virtually every commercial real estate product type.
Continuum's niche is the development of complex mixed-use developments which feature placemaking and sustainability. The projects have ranged in size from $60 million to close to $1Billion.
In his role of executive oversight Mr. Murphy has negotiated countless real estate related documents including JV partnerships, Development Agreements, Reciprocal Easement Agreements, 1031 Exchanges, Purchase and Sale Agreements, Mortgage Loan Agreements and Office/ Retail Leases, among others. At Pioneer and Continuum, the Project Executive is responsible for the successful implementation of all aspects of the project.
As head of office leasing and development at Pioneer and Continuum, Mr. Murphy has negotiated hundreds of leases representing several million square feet of office and retail space. Those office and retail leases include every form type of lease and several build to suit transactions with fortune 500 companies.
Mr. Murphy is a long-time member of NAIOP and he was awarded the President's Award from the Central New York Chapter given for outstanding community service and business integrity. He was a Board Member of the Colorado Chapter for six years and served as President of the 680-member Colorado Chapter in 2006. In 2018 Mr. Murphy was the recipient of the NAIOP Colorado Chapter's Presidents Award making him one of very few to receive NAIOP chapters highest award from multiple NAIOP Chapters. Mr. Murphy also served four years as a Board Member with the Business Improvement District of the Downtown Denver Partnership and was Chairman of the Business Improvement District Board in 2004.
Mr. Murphy has been an expert witness, prepared reports, and testified in real estate litigations, and his participation was critical to the successful outcomes achieved in each case. One case involved the actions of an urban renewal agency and developer in an Eminent Domain controversy, a second involved the interpretation of the intent of a group of leases; the third an interpretation of Due Diligence materials and responsibilities, and the last the controversial development of a 5-star hotel (in process).
Mr. Murphy served as a board member at Regis Jesuit High School in Denver and is a lifetime member of the Board of Trustees of Christian Brothers Academy in Syracuse, NY. He was also a long-time board member of the Make A Wish Foundation of Central New York and was named Man of the Year during his board tenure.
Mr. Murphy was involved with a group of four who participated with Professor David Hutchinson in helping format the four real estate courses to be offered at The University of Notre Dame. Mr. Murphy was awarded an Honorary Monogram from the University of Notre Dame in 2005 and was appointed by the President and Athletic Director to the Student Athlete Advisory Council at Notre Dame. He has also been a guest speaker in the Business Schools at the University of Notre Dame, the University of Colorado Boulder and the University of Denver in their graduate and undergraduate real estate programs. For the past four (6) years Mr. Murphy has taught the Graduate Level Real Estate Development Course at Notre Dame's Mendoza School of Business.
Mr. Murphy retired from Continuum Partners in July of 2018, but he remains active with Continuum on a project consultant/leasing basis.
Mr. Murphy has a B.S. in Business Administration from LeMoyne College in Syracuse, NY, and he is married with six children. Mr. Murphy resides in Denver, Colorado and maintains a home in South Bend, IN.