O. Dorian Boncoeur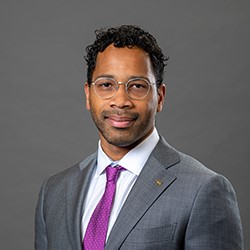 Assistant Professor
Management & Organization
338 Mendoza College of Business
Dorian Boncoeur is an assistant professor of Management & Organizations at the Mendoza College of Business.

His research examines human sustainability in the workplace; how employees can contribute to their organizations without subverting their own well-being. His research has appeared in peer-reviewed outlets such as Personnel Psychology, Journal of Business Ethics, and Journal of Business Research. To carry out this research, he runs experience-sampling field studies, analyzes archival data, and conducts interviews as well as online and laboratory experiments. At Notre Dame, he currently teaches Management at the undergraduate level.

Dr. Boncoeur received his Ph.D. in International Management Studies (Organizational Behavior) from the University of Texas at Dallas' Jindal School of Management where he was the recipient of the Expiwell Dissertation Award.
Education
Ph D, University of Texas at Dallas
MA, Jacobs University, Bremen, Germany
Maîtres, University of Bordeaux, France
BA, University of Mauritius, Mauritius
Briefings Magazine, June 1, 2022