Martijn Cremers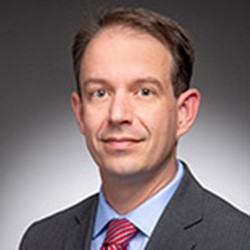 Martin J. Gillen Dean and Bernard J. Hank Professor of Finance
Office of the Dean
574-631-4476
204 Mendoza College of Business
Biography
Background
Publications
Awards
K.J. Martijn Cremers is the Martin J. Gillen Dean and the Bernard J. Hank Professor of Finance at the University of Notre Dame's Mendoza College of Business. He served as interim dean at Mendoza from July 2018 to June 2019. Prior to joining Notre Dame in 2012, Cremers was a faculty member at the Yale School of Management from 2002 to 2012. His research and teaching areas are investment management, corporate finance, corporate governance, corporate law, business ethics and Catholic social thought.

His co-authored paper "How Active is Your Fund Manager? A New Measure that Predicts Performance" (published in 2009 in the Review of Financial Studies) introduced Active Share, an innovative tool for determining the extent of active mutual fund management by measuring the percentage of stock holdings in a manager's portfolio that differs from the benchmark index. Active Share has become widely used in the financial industry and was incorporated in Morningstar Direct and FactSet.

His recent awards and distinctions include receiving an honorary degree and serving as the 2019 commencement speaker for Holy Cross College at Notre Dame in May 2019.

Cremers has long-standing consulting relationships with various investment managers, including State Street Associates and Touchstone Investments. He serves as an independent director at Ariel Investments, an investment company located in Chicago.

A native of the Netherlands, Cremers earned his master's degree from the Vrije Universiteit Amsterdam and his Ph.D. from New York University's Stern School of Business.

Cremers and his wife Liesbeth reside in South Bend, Indiana, and have six children.
Education
Ph D, Stern School of Business, New York University
MS, Vrije Universiteit Amsterdam, The Netherlands
Areas of Expertise
Investment Management
Corporate Governance
Mutual Funds
Pension Funds
Executive Compensation
Editorial Boards
Editorial Board Member
European Financial Management
January 1, 2012

Associate Editor
Review of Finance
January 1, 2010 - December 31, 2013

Associate Editor
Review of Financial Studies
January 1, 2009 - December 31, 2012

"Second-place Winner, 2013 SPIVA ('S&P Indices Versus Active') Research Awards", SPIVA ('S&P Indices Versus Active') Research Awards, 2014
"Winner of the Best Academic Paper award at the 2014 annual corporate governance symposium", the University of Delaware's John L. Weinberg Center for Corporate Governance , 2014
"Investor Responsibility Research Center (IRRC) Institute, Research Grant, 2013-2014", Investor Responsibility Research Center (IRRC) Institute, 2013
"Q Group (The Institute for Quantitative Research in Finance) Research Grant, 2013-2014 for "Patient Capital Outperformance"", Q Group, 2013
"Winner of the Journal of Investment Consulting's 2013 academic paper competition for "Emerging Market Outperformance: Public‐Traded Affiliates of Multinational Corporations"", Journal of Investment Consulting, 2013
"Inquire Europe Research Grant for "Can Large Pension Funds Beat the Market? Asset Allocation, Market Timing, Security Selection and the Limits of Liquidity"", Inquire Europe, 2012
"Outstanding Investments Paper award for "Can Large Pension Funds Beat the Market?"", Eastern Finance Association , 2012
"Pension Fund Research Grant", Rotman International Centre for Pension Management (ICPM, University of Toronto) , 2012
"Academic Competition Award (2nd place) for "Short-Term Trading and Stock Return Anomalies: Momentum, Reversal and Share Issuance"", Chicago Quantitative Alliance (CQA) , 2010
"Distinguished Referee Award", Review of Financial Studies, 2010
"Inquire Europe Research Grant", Inquire Europe, 2010
"Pension Funds Research Grant", Rotman International Centre for Pension Management (ICPM, University of Toronto) , 2010
"Roger F. Murray Prize 2010 (3rd place) for the best paper presentation at the Q group conferences in 2009 for "Should Benchmark Indices Have Alpha? Revisiting Performance Evaluation"", Q group, 2010
"Finalist for Wheeler Award for Quantitative and Behavioral Research in Finance for "Should Benchmark Indices Have Alpha? Revisiting Performance Evaluation"", Numeric Investors, 2008
"Robert C. Clark Corporate Governance Fund Research Grant ($100,000, with Allen Ferrell) for coding data for "Thirty years of shareholder rights and firm valuation"", Harvard Law School, 2008
"Winner (first price) of the Wheeler Award for Quantitative and Behavioral Research in Finance, for "Deviations from Put-Call Parity and Stock Return Predictability"", Numeric Investors, 2008
"Crowell Memorial Prize Award (3rd place) for "Deviations from Put-Call Parity and Stock Return Predictability"", PanAgora Asset Management, 2007
"Best paper award at the 2006 Financial Research Association annual meeting in Las Vegas for "How active is your fund manager?"", Financial Research Association , 2006
"Finalist for the Smith Breeden Prize for the best paper published in the Journal of Finance in 2005", Journal of Finance, 2006
"BSI/Gamma Foundation Research Grant", BSI/Gamma Foundation, 2002
"Crowell Memorial Prize Award (2nd place)", PanAgora Asset Management, 2001