Melinda Evans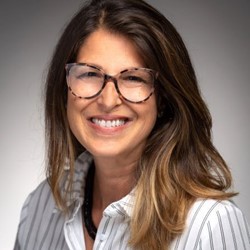 Associate Director of Career Services, MS Programs
The Notre Dame MBA
574-631-5575
528 Duncan Student Center
Melinda (Mindy) Evans joined Mendoza in 2019 and holds the position of Employer Relations Program Manager. In this role she connects students in the Master of Science in Management, Master of Science in Business Analytics, Master of Science in Accountancy, Master of Science in Nonprofit Administration, and (beginning AY 21/22) Master of Science in Finance programs with employers and alumni. She also coordinates engagement opportunities for working professionals in the MSBA Chicago and MSF Chicago programs.
In 2017, Evans reentered the workforce and began her career at Notre Dame in a temporary Human Resources position coordinating a year long speaker series for the Excellence in Leadership Program named in honor of John Affleck-Graves. Before her temporary term ended in January 2018, she was brought on board in the Meruelo Family Center for Career Development as an Administrative Coordinator. There she supported the Employer Engagement team coordinating outreach efforts and employer recruiting events as well as collaborating with her team to roll out the new student job board platform Handshake and Salesforce CRM. Prior to joining Notre Dame in 2017, Mindy held roles as Merchandise Coordinator/Project Manager at Levi Strauss & Co. for the Dockers brand and as an Associate Financial Consultant doing IPO analysis at Merrill Lynch.
A South Bend native, Evans earned her B.S. in Finance degree from Ball State University. Upon graduation, Evans lived and worked in the Chicago area for 12 years. She holds her Certification for Administrative Professional Development from Skillpath. In addition, she is a member of the Diversity and Equity Volunteers (DEV) program and THRIVE resource group. Evans and her husband Robbie reside in South Bend, Indiana with their four children.