Corey Angst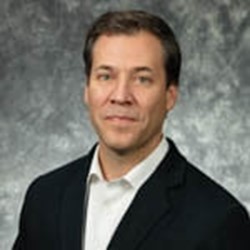 Professor
IT, Analytics, and Operations
574-631-4772
348 Mendoza College of Business
Biography
Background
Publications
Books
Awards
Professor Angst conducts research on the transformational effect of IT, technology usage, and IT value - particularly in the healthcare industry. In recent papers, he has investigated the diffusion of disruptive healthcare innovations and the relationship to financial value and quality of care.
Angst teaches undergraduate courses in project management and problem solving and graduate courses related to the strategic use of IT. He received his Ph.D. from the Smith School of Business, University of Maryland; his M.B.A. from the Alfred Lerner College of Business & Economics, University of Delaware; and his B.S. in Mechanical Engineering from Western Michigan University. From 2005-2007, Angst was the Associate Director of the Center for Health Information and Decision Systems at the University of Maryland.
Prior to pursuing his graduate education, Angst worked for 10 years in both technical and strategic roles, most recently as a consultant with the DuPont Company. Angst has conducted research and consulted in the healthcare IT domain for many large multinational companies and for the federal government.
Education
Ph D, University of Maryland, Robert H. Smith School of Business
MBA, University of Delaware, Alfred Lerner College of Business & Economics
BS, Western Michigan University
Areas of Expertise
Information Systems adoption, Health IT
Data security breaches, IT value
Editorial Boards
Associate Editor
MIS Quarterly (2nd term)
January 1, 2017 - January 1, 2019

Associate Editor
MIS Quarterly
January 1, 2015 - January 1, 2017

Associate Editor
ICIS 2014
April 20, 2014 - June 15, 2014

Associate Editor
ICIS 2013
April 23, 2013 - June 15, 2013

Associate Editor
ICIS 2012
April 23, 2012 - June 15, 2012

Ad Hoc Reviewer
ISR
June 10, 2010 - July 2, 2010

Ad Hoc Reviewer
HICSS
June, 2010

Ad Hoc Reviewer
MCIS - 5th Mediterranean Conference on Information Systems
June, 2010

Special Issue Editor
ISR Special Issue: The Role of Information Systems in Healthcare Organizations: Synergies from an interdisciplinary perspective
January, 2008 - June, 2010

Ad Hoc Reviewer
ICIS
May, 2003 - May, 2010

Ad Hoc Reviewer
JAIS
April 7, 2010 - April 10, 2010

Ad Hoc Reviewer
ISR
February 21, 2010 - March 22, 2010

Ad Hoc Reviewer
ISR
October 14, 2009 - November 4, 2009

Ad Hoc Reviewer
IJIM
October 1, 2009 - November 1, 2009

Ad Hoc Reviewer
CAIS
October 22, 2009 - October 30, 2009

Ad Hoc Reviewer
CAIS
August 2, 2009 - August 19, 2009

Ad Hoc Reviewer
MIS Quarterly
February 6, 2009 - April 15, 2009

Ad Hoc Reviewer
JAIS
August 7, 2008 - September 10, 2008

Ad Hoc Reviewer
MIS Quarterly
August 6, 2008 - September 2, 2008

Ad Hoc Reviewer
IJEC
June 9, 2008 - July 20, 2008

Ad Hoc Reviewer
MIS Quarterly
February 19, 2008 - April 1, 2008

Ad Hoc Reviewer
Management Science
November 1, 2007 - February 1, 2008

Ad Hoc Reviewer
DIGIT
November, 2007

Ad Hoc Reviewer
HICSS
June, 2007

Ad Hoc Reviewer
JAIS
June, 2007

Ad Hoc Reviewer
DIGIT
November, 2005

Ad Hoc Reviewer
Human-Computer Interaction in MIS
September, 2004

Ad Hoc Reviewer
Decision Support Systems - Special Issue on Medicine
February, 2004

Ad Hoc Reviewer
MIS Quarterly
February, 2004

Ad Hoc Reviewer
Information and Management
November, 2003

Teaching
Business Problem Solving
Strategic IT
Strategic IT Applications
BS315 eMarketing (Notre Dame Australia)
Project Management
Strategic Business Technology
Strategic Information Systems
"2017-18 Kaneb Center Faculty Fellow", Kaneb Center, 2017
"Office of the Dean Mission Award, for research that supports the mission of the Mendoza College of Business", Mendoza College of Business, 2017
"Rev. Edmund P. Joyce, C.S.C. Award for Excellence in Undergraduate Teaching", University of Notre Dame, 2017
"Citations of Excellence Awards for 2013", Emerald Group Publishing Limited, 2013
"2013 POMS College of Service Operations Most Influential Paper Award", POM Society, 2013
"Frank T. Paine Award for Academic Achievement", University of Maryland, 2007
"Krowe/Legg Mason Teaching Excellence Award", University of Maryland, Smith School of Business, 2005
"Co-Founder and Associate Director", Center for Health Information and Decision Systems , 2005
"Top 15% Award", University of Maryland, Smith School of Business, 2004
"Beta Gamma Sigma", National Honor Society of Business, 2001
"Pi Tau Sigma", National Honor Society, 1992
"Tau Beta Pi", National Engineering Honor Society, 1992