Daewon Sun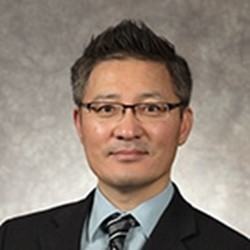 Professor
IT, Analytics, and Operations
574-631-0982
359 Mendoza College of Business
Biography
Background
Publications
Presentations
Awards
Professor Sun's primary research interests are in pricing strategies and resource management, including economics of information systems, interface between operation management and marketing, pricing strategies in online retailing, supply chain competition/coordination, and product launch/management of information technologies. His published papers appear in top-tier journals and his research was recognized by several professional awards including 2013 AIS Best Information Systems Publications Award of the Year. He is a senior editor for Production and Operations Management and an associate editor for Decision Sciences journals.
Professor Sun teaches information systems and operations management core courses, including Systems Analysis and Design, IS Capstone Project, Introduction to Process Analytics, and Business Intelligence.
He holds a Ph.D. in Management Science and Information Systems from the Pennsylvania State University, an MBA from Bowling Green State University, and Bachelor of Business Administration from Korea University, Seoul, Korea.
Education
Ph D, Pennsylvania State University
MBA, Bowling Green State University
BBA, Korea University
Areas of Expertise
IT Product Pricing and Launching Strategies
Supply Chain Conflict and Coordination
Contracting and Competition under Asymmetric Information
Operations Management and Marketing Interface
Editorial Boards
Senior Editor
Production and Operations Management
March, 2016

Associate Editor
Decision Sciences
June, 2012

Teaching
Predictive Analytics
Systems Analysis and Design
Business Intelligence
Introduction to Process Analytics
Operations and Competitive Enterprise
MIS Capstone Project
"Incentive-Compatible in Dominant Strategies Mechanism Design for an Assembler under Asymmetric Information", (With Z. Li, J. Ryan, L. Shao), Production and Operations Management, 28, 2019
"Selling Virtual Currency in Digital Games: Implications on Gameplay and Social Welfare", (With Hong Guo, Lin Hao, T. Mukhopadhyay), Information Systems Research, 30, 2019
"Impact of Supply Chain Power and Drop-Shipping on a Manufacturer's Optimal Distribution Channel Strategy", (With D. Yu, T. Cheong), European Journal of Operational Research, 259, 2017
"A Manufacturer's Outlet Decision: The Impact of Quality, Innovation, and Market Awareness", (With Z. Li, J. Ryan), International Journal of Production Economics, 186, 2017
"Newsvendor Problems with Demand Shocks and Unknown Demand Distributions", (With S. O'Neil, X. Zhao, J. Wei), Decision Sciences, 47 , 2016
"Designing Multi-Attribute Procurement Mechanisms for Assortment Planning", (With Z. Li, L. Shao), Decision Sciences, 46, 2015
"Supply Contract Design for Competing Heterogeneous Suppliers under Asymmetric Information", (With Z. Li, J.K. Ryan, L. Shao), Production and Operations Management, 24, 2015
"Optimal Digital Rights Management with Uncertain Piracy", (With R. Easley, B. Kim), Decision Sciences, 46, 2015
"Multi-Attribute Procurement Contracts", (With Z. Li, J.K. Ryan), International Journal of Production Economics, 159, 2015
"Commercialization of Platform Technologies: Launch Timing and Versioning Strategy", (With H. Bhargava, B. Kim), Production and Operations Management, 22, 2013
"A Test of Two Models of Value Creation in Virtual Communities", (With C. Porter, S. Devaraj), Journal of Management Information Systems, 30, 2013
"Coordinating a Supply Chain with a Manufacturer-Owned Online Channel: A Dual Channel Model under Price Competition", (With J. Ryan, X. Zhao), IEEE Transactions on Engineering Management, 60, 2013
"JIT Delivery with Stochastic Lead Time", (With J.C. Hayya, R.V. Ramasesh, J.E. Tyworth, J.G. Kim), Journal of the Operational Research Society, 64, 2013
"Optimal Pricing and Capacity Investment for Lead Time Sensitive Demand", (With D. Yu, X. Zhao), IEEE Transactions on Engineering Management, 60, 2013
"Equity-Based Incentives and Supply Chain Buy-Back Contracts", (With T. Dai, Z. Li), Decision Sciences, 43, 2012
"Competition and Coordination in Online Marketplaces", (With J. Ryan, X. Zhao), Production and Operations Management, 21, 2012
"On Jointly Optimizing the Changes of Seasonable Goods and Inventory Replenishment", (With Z. Li, F. Tao), International Journal of Systems Science, 43, 2012
"Acquisition and Disclosure of Operational Information", (With Z. Li), Decision Sciences, 43, 2012
"The Optimal Format to Sell a Product Through the Internet: Posted Price, Auction, and Buy-Price Auction", (With Z. Li, J. Hayya), International Journal of Production Economics, 127, 2010
"Why Do We Observe Stockless Operations on the Internet? – Stockless Operation under Competition", (With J. Ryan, H. Shin), Production and Operations Management, 17, 2008
"Dual Mechanism for an Online Retailer", European Journal of Operational Research, 187, 2008
"On Static Stochastic Order Crossover", (With J. Hayya, U. Bagchi, J. Kim), International Journal of Production Economics, 114, 2008
"Pricing under Quality of Service Uncertainty: Market Segmentation via Statistical QoS Guarantees", (With H. Bhargava), European Journal of Operational Research, 191, 2008
"Progress in Web-based Decision Support Technologies", (With H. Bhargava, D. Power), Decision Support Systems, 43, 2007
"Stockout Compensation: Joint Inventory and Price Optimization in Electronic Retailing", (With H. Bhargava, S. Xu), INFORMS Journal on Computing, 18(2), 2006
"The (s, Q) Inventory Model with Erlang Lead Time and Deterministic Demand", (With J. Kim, X. He, J. Hayya), Naval Research Logistics, 51(6), 2004
"How Should an Assembler Cope with Information Asymmetry?", INFORMS 2018 International Conference, 2018
"Selling Virtual Currency in Digital Games: Implications on Gameplay and Social Welfare", University of Hong Kong, 2015
"Stockout Compensation: Joint Inventory and Price Optimization in Electronic Retailing", INFORMS 2014 Annual Meeting, 2014
"Procurement Contract Design for Competing Buyers under Asymmetric Information", Korea Management Science and Operations Research Conference, 2014
"Optimal Contract Design for Platform Products and User-Developed Applications", Korea Association of Information Systems Conference, 2013
"Procurement Contracts under Information Asymmetry and Demand Uncertainty", Twenty Fourth Annual Conference of POMS, 2013
"Competition and Coordination in Online Marketplaces", INFORMS 2012 Annual Meeting, 2012
"Competition and Coordination in Online Marketplaces", University of Sydney, 2012
"Competition and Coordination in Online Marketplaces", Twenty Third Annual Conference of POMS, 2012
"Product Launch Timing and Versioning Strategy", INFORMS 2011 Annual Meeting, 2011
"Commercialization of Platform Technologies", Twenty Second Annual Conference of POMS, 2011
"Coordinating a Supply Chain with a Manufacturer-Owned Online Channel", INFORMS 2010 Annual Meeting, 2010
"Manufacturer-Retailer Conflicts in an E-Commerce Setting", Seoul National University, 2010
"Manufacturer-Retailer Conflicts in an E-Commerce Setting", Korea Association of Information Systems Conference, 2010
"Manufacturer-Retailer Conflicts in an E-Commerce Setting", Korea University, 2010
"Coordinating a Supply Chain with a Manufacturer-Owned Online Channel: A Dual Channel Model under Price Competition", INFORMS 2009 Annual Meeting, 2009
"Coordinating a Supply Chain with a Manufacturer-Owned Online Channel: A Dual Channel Model under Price Competition", Notre Dame ITM Symposium, 2009
"Coordinating a Supply Chain with a Manufacturer-Owned Online Channel - A Dual Channel Model under Price Competition", Twentieth Annual Conference of POMS, 2009
"Price and Quantity Competition in Online Retailing: Amazon's Marketplace Contract", INFORMS 2008 Annual Meeting, 2008
"Price and Quantity Competition between Outlets and Retail Stores: Why Manufacturers Restructure Outlets", Nineteenth Annual Conference of POMS, 2008
"Stockout Compensation in Online Retailing", Purdue University, 2007
"Performance of Single-Unit Auctions", Eighteenth Annual Conference of POMS, 2007
"The Optimal Format to Sell a Product through the Internet: Posted Price, Pure Auction, or Buyout Auction", 37th Annual Meeting of the Decision Science Institute (DSI2006), 2006
"The Role of Stockless Operations in Electronic Retailing", INFORMS 2006 Annual Meeting, 2006
"Why Can We Observe Stockless Operations on the Internet? Stockless Operation under Competition", Seventeenth Annual Conference of POMS, 2006
"Dual Mechanism for an Online Retailer", Invited Talk, MIS Research Seminar, 2005
"Performance-Contingent Pricing for Broadband Services", Thirty-Eighth Hawaii International Conference on System Sciences (HICSS-38), 2005
"Multi-Unit Auction with Buy-It-Now", MIS Research Symposium, 2004
"Contingency Pricing Enables Versioning of Broadband Internet Access Services", INFORMS 2003 Annual Meeting, 2003
"Dual Mechanism in Electronic Retailing", Americas Conference on Information Systems (AMCIS2003), 2003
"Pricing Strategy and Resource Management in the Digital Era", Americas Conference on Information Systems (AMCIS2003), 2003
"Quality-Contingent Differentiated Pricing for Broadband Services", Americas Conference on Information Systems (AMCIS2003), 2003
"Quality-Contingent Differentiated Pricing for Broadband Services", Second Big 10 IS Research Symposium, 2003
"Pricing Strategy and Resource Management in the Digital Era", Research Seminar, New Jersey Institute of Technology, 2003
"Best Allocation Strategy for an Online Retailer: Posted Price, Auction, or Both?", INFORMS Computing Society Conference (ICS2003), 2003
"Stockout Compensation and Inventory Management for an Electronic Retailer", First Workshop on e-Business (WEB2002), 2002
"Quality-Contingent Differentiated Pricing for Broadband Services", INFORMS 2002 Annual Meeting, 2002
"Best Allocation Strategy for an Online Retailer: Posted Price or Auction", Seventh Annual Conference on Information Systems & Technology (CIST2002), 2002
"Stockout Compensation and Contingency Pricing Strategies in IT-enabled Commerce", DSI Service Workshop, 2002
"Joint Inventory and Price Optimization for an Electronic Retailer", Workshop on Information Systems and Economics (WISE2001), 2001
"Joint Inventory and Price Optimization for an Electronic Retailer", INFORMS 2001 Annual Meeting, 2001
"Inventory Management in e-business: An EOQ Approach with Compensation Policy", eBusiness Workshop, 2001
"2013 AIS Best Information Systems Publications Award of the Year", Association for Information Systems (AIS), 2014
"2009 eBusiness Section of INFORMS Best Paper Award", eBusiness Section of the Institute for Operations Research and the Management Sciences (INFORMS), 2009
"2004 Operations Research Meritorious Service Award", Operations Research (an INFORMS journal), 2005
"Finalist", 2003
"AMCIS Best Paper Award", Americas Conference on Information Systems (AMCIS2003), Digital Economy Track, 2003
"eBusiness Workshop Best Paper Award", The eBusiness Research Center and the Institute for the Study of Business Markets, 2001