Kelly Rubey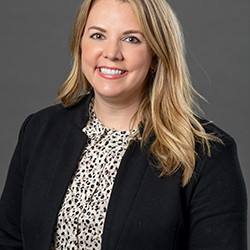 Assistant Teaching Professor
Management & Organization
574-631-4432
321 Mendoza College of Business
Biography
Background
Awards
Kelly Rubey is an Assistant Teaching Professor in the Management & Organization Department of Mendoza College of Business at the University of Notre Dame. Kelly teaches Frontlines in America and Business on the Frontlines for graduate students and Principles of Management for undergraduate students. A faculty affiliate of the Building Inclusive Growth Lab and the Eck Institute for Global Health, Kelly brings a cross-disciplinary approach to addressing societal grand challenges.

Always passionate about using business as a force for good, Kelly's teaching and research interests concentrate on building inclusive communities, particularly for those who have come through the traumas of violence, poverty, and prejudice. She brings a dedication for delivering positive impact for partner organizations in communities around the world as well as a commitment to designing transformational experiences for students. Kelly has worked on a variety of project topics such as community empowerment, illicit crop reduction, rural education networks, agricultural market linkages, entrepreneurial ecosystems, and more.

Prior to joining Notre Dame, Kelly held several roles in the private sector. Most recently, she was a Client Executive at IBM where she led global client teams supporting multinational clients on digital business transformation. Kelly also worked in marketing and product management at Thomson Reuters. Aside from her work at Notre Dame, Kelly enjoys collaborating with organizations on initiatives that drive peace, equality and economic empowerment. She's also a child advocate in the Court Appointed Special Advocate program (CASA) for St. Joseph County.
Education
MBA, University of Notre Dame
BS, University of Wisconsin, LaCrosse
Areas of Expertise
Experiential Service Learning
Inclusion and Empowerment in Business
Consultative Selling & Client Relationship Management
"James Dincolo Outstanding Teaching Award for Teaching Faculty", Department of Management & Organization, 2023
"Best Paper Award", European Group for Organizational Studies Colloquium, 2022
"100 Percent Club", IBM, 2020
"Best Academic Case Study", Global Alliance COMM PRIX, 2016