Mitchell Olsen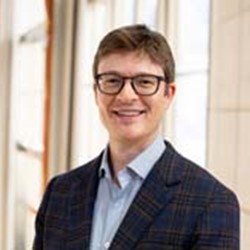 Assistant Department Chair and Director of Undergraduate Studies in the Marketing Department; Richard J. Huether Associate Teaching Professor of Marketing
Marketing
574-631-1734
373 Mendoza College of Business
Biography
Background
Publications
Books
Awards
Mitch Olsen is the Richard J. Huether Associate Teaching Professor of Marketing. He also serves as the director of undergraduate studies and assistant chair of the Marketing Department.

His research interests are in marketing strategy, with a specific focus on substantive issues that occur at the intersection of any, and all, of the following sub-areas: (1) Brands (especially in the consumer packaged goods industry), (2) Retailing, and (3) Innovation. His expertise in these areas is regularly sought via interviews with leading national and international news outlets such as CNN, CNBC, and Reuters as well as regional press outlets such as the South Bend Tribune, among others.

In his teaching, he enjoys pairing foundational marketing theories – informed by his three degrees on the subject (B.S., M.S., and Ph.D. from Indiana University's Kelley School of Business) – with emergent applications of those theories in practice – informed by his work experience at Procter & Gamble and his active research on firms in the retail and consumer packaged goods industries.
Education
Ph D, Indiana University
MS, Indiana University
BS, Indiana University
Areas of Expertise
Brands (especially in the consumer packaged goods industry)
Retailing
Innovation and New Product Development
"Product Performance", (With Owen Parker), The SAGE Encyclopedia of Corporate Reputation, 2016
"Product Recalls and Public Safety", (With Owen Parker), The SAGE Encyclopedia of Corporate Reputation, 2016
"Michiana Forty under 40", South Bend Regional Chamber, 2023
"Top Downloaded Article", Journal of Consumer Affairs, 2023
"Top Retail Influencer", RETHINK Retail, 2023
"James Dincolo Outstanding Teaching Award for Teaching Faculty", Department of Marketing, Mendoza College of Business, University of Notre Dame, 2023
"James Dincolo Outstanding Undergraduate Professor Award", Department of Marketing, Mendoza College of Business, University of Notre Dame, 2019
"Marketing Strategy Consortium Fellow", University of Missouri, 2018
"Best Paper Award", Symposium for Emerging Marketing Scholars, 2017
"Faculty Fellow", AMA-Sheth Foundation Doctoral Consortium, 2016
"Marketing Research Excellence Award Winner", Indiana University, Kelley School of Business, 2015
"Mathew Joseph Emerging Scholar Award Honorable Mention", AMA DocSIG, 2015
"Outstanding Doctoral Student Award Winner", Indiana University, Kelley School of Business, 2015
"Panschar Teaching Award Finalist", Indiana University, Kelley School of Business, 2015
"Student Fellow", AMA-Sheth Foundation Doctoral Consortium, 2015
"Outstanding Associate Instructor Award Nominee", Indiana University, Kelley School of Business, 2014
"Panschar Teaching Award Nominee", Indiana University, Kelley School of Business, 2014
"Student Fellow", PDMA-UIC Doctoral Consortium, 2014