Vamsi Kanuri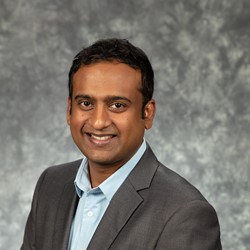 Viola D. Hank Associate Professor of Marketing
Marketing
574-631-2399
375 Mendoza College of Business
Biography
Background
Publications
Awards
Vamsi Kanuri is an Associate Professor of Marketing at the University of Notre Dame's Mendoza College of Business. His research evaluates the performance and consumer welfare implications of marketing strategies within the domains of social media, services, and multichannel marketing using econometric, optimization, and machine learning techniques.

Prof. Kanuri's research has appeared in leading marketing and management journals, including the Journal of Marketing, Journal of Marketing Research, Production and Operations Management, Strategic Management Journal, and Harvard Business Review, among other journals, books, and popular press outlets. His research has been recognized with prestigious academic awards from the AMA, AMS, INFORMS, and Decision Sciences organizations for its impact on marketing practice. His research has been featured in several popular press outlets, including the NPR, Financial Times, Wall Street Journal, USA Today, Fortune Magazine, Media Post, Subscription Insider, Fox Business, Inc.com, ScienceDaily, Association for Computing Machinery, and Nieman Journalism Lab. He frequently consults with companies on various marketing problems and builds statistical models that aid in managerial decision-making.

Prof. Kanuri currently teaches Marketing Decision Models in the undergraduate and MBA programs. He has received the James Dincolo outstanding undergraduate marketing professor and Poets and Quants' 40 under 40 best MBA professor awards in recognition of his teaching.
Education
Ph D, University of Missouri (2015)
MBA, University of Missouri
Areas of Expertise
• Marketing Strategy
• Digital Marketing
• Multichannel Marketing
• Services Marketing
Editorial Boards
Developmental Editor
Journal of Marketing
April 21, 2023

Associate Editor
Journal of Academy of Marketing Science
June 1, 2022

Editorial Board Member
International Journal of Research in Marketing
July 1, 2021

Editorial Board Member
Journal of Marketing
August 1, 2019

Editorial Board Member
Production and Operations Management
April 1, 2019

Editorial Board Member
Journal of Retailing
June 16, 2017

"Faculty Fellow, 11th AIM-AMA Sheth Foundation Doctoral Consortium", 2023
"Faculty Fellow, Marketing Strategy Consortium", University of Georgia, 2023
"Faculty Counselor, ISBM Ph.D. Camp on Research in B2B Markets", Institute for the Study of Business Markets, 2022
"Faculty Fellow, Marketing Strategy Consortium", Texas A&M University, 2022
"Viola D. Hank Professorship", University of Notre Dame, 2022
"Outstanding Reviewer Award", Journal of Marketing, 2021
"Retail & Pricing SIG Best Paper Award", American Marketing Association, 2021
"40 under 40 Best MBA Professor", Poets & Quants, 2020
"Best Reviewer Award", Journal of Academy of Marketing Science, 2020
"Early-Career Faculty Fellow, Marketing Strategy Consortium", University of Texas at Austin, 2020
"James Dincolo Outstanding Undergraduate Professor Award", Mendoza College of Business, 2020
"Robert J. Lavidge Global Marketing Research Award", American Marketing Association Foundation, 2020
"Early-Career Faculty Fellow, Marketing Strategy Consortium", Indiana University, 2019
"MSI/H. Paul Root Award (finalist)", American Marketing Association, 2019
"Best Reviewer Award", Journal of Academy of Marketing Science, 2018
"Paul E. Green Award (Finalist)", American Marketing Association, 2018
"Technology SIG Best Paper Award (runner-up)", American Marketing Association, 2018
"Elwood Buffa Award (winner)", Decision Sciences Institute, 2016
"George B. Dantzig Award (honorable mention)", INFORMS, 2016
"Mary Kay Research Award (finalist)", Academy of Marketing Science, 2016