Gerard Pannekoek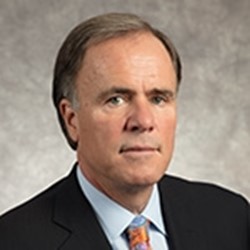 Edward J. Huether Associate Teaching Professor of International Business
Management & Organization
574-631-6280
309 Mendoza College of Business
Biography
Background
Awards
Gerard J. Pannekoek possesses more than 30 years of diverse corporate experience, with areas of expertise and responsibility that include both domestic and international management, finance, marketing, and operations. Throughout his career, Mr. Pannekoek has initiated and managed major projects involving complex business issues, legal transactions, mergers and acquisitions, and restructuring.

From 2009 through 2015, Mr. Pannekoek was Chairman, President and CEO of IPXI Holdings, LLC, a start-up company that became the world's first financial exchange for non-exclusive licensing and trading of Intellectual Property rights. In that capacity, he was responsible for overseeing all aspects of the company's operations. Before assuming his role at IPXI Holdings, Mr. Pannekoek served four years as Teaching Professor at the University of Notre Dame's Mendoza College of Business, where he taught entrepreneurship and international management to MBA and undergraduate students. From 2002 through 2005, Mr. Pannekoek was President and Chief Operating Officer of the Chicago Climate Exchange (CCX), a start-up company that became the world's first multi-national and multi-sector market for reducing and trading greenhouse gas emissions. In that capacity he designed, implemented and managed the transition of a unique idea into an actual business, and established the firm's infrastructure and trading operations in less than 12 months.  He also created a joint venture with the International Petroleum Exchange in London to establish the European Climate Exchange, which is currently the leading exchange in European carbon trading.

Prior to CCX, Mr. Pannekoek served as Senior Vice President of ABN-AMRO Inc., which he joined as a member of its senior management team following the acquisition of certain business lines from Sakura Dellsher, Inc. (SDI), a global derivatives brokerage firm. He worked at SDI from 1994 to 2000 as Chairman of the firm's Executive Committee. In his capacity as Executive Vice President, he initiated and directed the firm's transformation from a bank-owned brokerage firm (which limited its scope to proprietary business only) to a first-class financial institution. He was also the principal advisor to SDI's Board of Directors during the negotiations and ultimate sale of its business to ABN AMRO.

From 1991 until 1994, Mr. Pannekoek served as Director of International Marketing at Quantum Financial Services. He started his career in Chicago in 1982 as Senior Manager of the Netherlands Chamber of Commerce.

Mr. Pannekoek is a native of the Netherlands, where he received his Bachelors of Arts degree from the H.E.A.O. College in Zwolle. He earned his Master of Management Degree from the Kellogg Graduate School of Business at Northwestern University He is the co-founder of the Future of Chesterton Foundation and served on the Board of Directors of the Porter County Community Foundation and the Finance Advisory Council of the University of Iowa.

Mr. Pannekoek currently resides with his family in Chesterton, Indiana and enjoys running, cycling as well as playing and refereeing soccer, holding both USSF and IHSAA licenses.
Education
MBA, J.L. Kellogg Graduate School of Management, Northwestern University
BA, College for Higher Economic and Administrative Education, Zwolle, The Netherlands
Areas of Expertise
Chicago Climate Exchange, Inc., President & COO, 2002-2005
ABN AMRO, Inc., Senior Vice President, 2001-2002
Sakura Dellsher, Inc., Executive Vice President, 1994-2001
Quantum Financial Services, Inc., Director of International Marketing, 1991-1994
Netherlands Chamber of Commerce in the US, Inc, Senior Manager, 1982-1991
IPXI Holdings, President & CEO, 2009 - 2015
University of Notre Dame, Teaching Professor 2006-2009
"MSM Outstanding Professor", University of Notre Dame, 2022
"James Dincolo Outstanding Undergraduate Professor Award", University of Notre Dame, 2019
"300 World's Leading IP Strategists", Intellectual Asset Management, 2015
"300 World's Leading IP Strategists", Intellectual Asset Management, 2014
"300 World's Leading IP Strategists", Intellectual Asset Management, 2013
"300 World's Leading IP Strategists", Intellectual Asset Management, 2012
"300 World's Leading IP Strategists", Intellectual Asset Management, 2011