James O'Rourke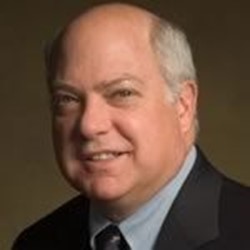 Teaching Professor
Management & Organization
574-631-8397
230 Mendoza College of Business
Biography
Background
Publications
Books
Presentations
Awards
James S. O'Rourke is an American rhetorician who teaches management and corporate communication, as well as business writing and speaking, at the University of Notre Dame. He is a Teaching Professor of Management and Organization. From 1990 to 2017, he served as the Arthur F. and Mary J. O'Neil Director of the Fanning Center for Business Communication.

Prof. O'Rourke earned a BBA in Management from Notre Dame, an MS in Mass Communication from Temple University, an MA in Speech Communication from the University of New Mexico, and a Ph.D. in Public Communication from Syracuse University.

He is the author of 23 prominent textbooks, including Management Communication, 7/e Routledge (Abingdon, Oxfordshire), Strategic Crisis Communication (Routledge, New York) and The Truth About Confident Presenting, 2/e Anthem Press (London). He is principal author or directing editor of more than 300 case studies in management and corporate communication.

O'Rourke is a member and former trustee of both the Arthur W. Page Society and the Institute for Public Relations. He is also a member of the Management Communication Association, and periodic consultant to Fortune 500 and mid-size businesses throughout North America. During Spring 2018, he served as faculty-in residence in Notre Dame's M.K. Fischer Hall in London.
Education
Ph D, Syracuse University
MA, University of New Mexico
MS, Temple University
BBA, University of Notre Dame
Areas of Expertise
Corporate Communication
Reputation Management
Public Speaking
Business Writing
Editorial Boards
Ad Hoc Reviewer
Journal of Organizational Behavior Education
2011

"Honda Motor Company: Communication and the Takata Airbag Crisis", (With Sonakshi Baheti, Moffitt Britton, Walter Pruchnik), Journal of Organizational Behavior Education, 12, 2019
"Case Studies", The SAGE Encyclopedia of Corporate Reputation, 1, 2016
"Corporate Communication Axioms", The SAGE Encyclopedia of Corporate Reputation, 1, 2016
"Chobani: Managing Explosive Growth, Aggressive Competition and Threats to Product Quality", (With Yao Xie, Kerger Truesdell), Journal of Organizational Behavior Education, 8, 2015
"The Boeing Company: The Grounding of the 787 Dreamliner", (With Andres Carrillo, Lauren Harville, Daniel Portilla), Journal of Organizational Behavior Education, 8, 2015
"Teaching Strategic Communication in Business Schools: New Evidence from the C-Suite", (With James O'Rourke, Jennifer Prosek), The Arthur W. Page Society, 2014
"Teaching Strategic Communication in Business Schools: New Evidence from the C-Suite", Arthur W. Page Society, 2013
"BP and the Gulf Oil Spill (A)", (With Dan Marques , Jonathan Kim , John Mikols ), Journal of Organizational Behavior Education, 1, 2012
"Carnival Cruise Lines: Fire Aboard a Stranded Cruise Ship", (With Russell Cramer , Samuel DeLemos , Laura Divel ), Journal of Organizational Behavior Education, 1, 2012
"Google in China: Government Censorship and Corporate Reputation", (With Brynn Harris, Allison Ogilvy), Journal of Business Strategy, 27, 2007
"Merck & Co. Inc.: Communication Lessons from the Withdrawl of Vioxx", (With Grant Bartucci, Andrew Gust), Journal of Business Strategy, 27, 2006
"Martha Stewart Living Omnimedia, Inc.: The Fall of an American Icon", (With Arianne Westby, Mary Page Moulton), Public Relations Review, 30, 2004
"The Art of Downsizing: Communicating Layoffs to Key Stakeholders", (With Marek Pfeil, Allison Setterberg), Journal of Communication Management, Vol. 8, No. 2, 2003
"Bridgestone/Firestone, Inc. and Ford Motor Company: How a Product Safety Crisis Ended a Hundred-Year Relationship", (With Jennifer Pries, Michele Lagueux), Corporate Reputation Review, Volume Four, Number Three, 2001
"Business Communication and the MBA of the 1990s: Curriculum Innovations for Graduate Students of Business at the University of Notre Dame", Proceedings of the Midwest Business Teaching Conference, Vol. 2, No.1, 1993
"Is Television in Color Educationally Justifiable? A Review of the Research", The International Journal of Instructional Media, Vol. 9, No. 3, 1982
"Management Communication: A Case-Analysis Approach, 6/e", Routledge (Abingdon, Oxfordshire UK), 2019
"The Truth About Confident Presenting, 2/e", Anthem Press (London), 2019
"Chapter 7. Total Integration: Working Across the C-Suite", The New Era of the CCO: The Essential Role of Communication in a Volatile World, 1, 2016
"Intercultural Communication for Business", (With Elizabeth Tuleja, ), GlobeComm Publishing, 1, 2015
"Putting Reputation at Risk: The Seven Factors of Reputational Management. In O. Williams (ed.), Sustainable Development: The UN Millennium Development Goals, The UN Global Compact, and the Common Good.", University of Notre Dame Press, 2014
"Management Communication: A Case-Analysis Approach, 5/e", Prentice Hall, 2013
"Corporate Reputation and the Discipline of Management Communication. In C. Carroll (Ed.) Handbook of Communication and Corporate Reputation", Oxford, UK: Wiley Blackwell, 2013 - Accepted (awaiting publication)
"Effective Communication", Dorling Kindersley: The Penguin Group, Ltd., 2009
"Graphics and Visual Communication for Managers", (With Robert Sedlack, Barbara Shwom, Karl Keller), Cengage South-Western, 2008
"Managing Conflict and Workplace Relationships", (With Sandra Collins), Cengage South-Western, 2008
"Persuasion", (With Sandra Collins), Cengage SouthWestern, 2008
"Beginning Your Career Search", Pearson Prentice-Hall, 2007
"The Business Communication Casebook: A Notre Dame Collection, 2/e", Thomson South-Western, 2007
"Teaching with Case Studies / Writing Case Studies", University of Jyvaskyla, Finland, 2022
"Reforming the U.S. Postal Service: The Urgency and Necessity for a New Operational Model", John S. Carroll Memorial Case Study Roundtable, University of Florida, 2022
"Crisis Planning and Communication", Symposium on Crisis Management, University of Saint Francis, 2021
"Research Presentation Skills", Strategic Management Skills Seminar, Harper Cancer Research Institute Faculty and Fellows, 2019
"Changing the Conversation: Aleternative Approaches to Management Communication", 2019 Conference of the Management Communication Association, 2019
"Persuasion and Influence", Hesburgh-Alumni Lecture Series, Cleveland, Ohio, 2018
"What Do Managers Do All Day? The Answer, In Part, Is Communication", Community Engagement Intern Program, Notre Dame College of Engineering, 2018
"Reputation Management: The Strategic Value of a Sustainable Asset", University of Notre Dame (USA) in England / London, England UK, 2018
"Barney's New York: Connecting Theory and Practice", 82nd Annual Meeting, Association for Business Communication / Dun Laoghaire, Ireland, 2017
"Applying Research and Experience to Re-frame the Feedback Discussion", Management Communication Association / Cornell University, 2017
"Reputation Management: The Strategic Value of a Sustainable Brand", 2016 Global Communication Conference: Tyson Foods Inc., 2016
"The Value of Language and Critical Thinking in a Business Education", Jesuit Business Education Conference, LeMoyne College, Syracuse, New York, 2016
"Key Factors in Reputation Management", Undergraduate Admissions Office: Lunch-and-Learn, 2016
"Why Soft Skills Matter", 2014 Edelman Academic Summit: Storytelling at the Speech of Now, 2014
"Reputation Crisis Management. Carnival Cruise Lines: The Wreck of the Costa Concordia.", The Seventeenth Global Conference on Corporate Reputation, Identity and Competitiveness, 2013
"Putting Reputation at Risk: The Seven Factors of Reputational Management", The U.N. Millennium Development Goals, The Global Compact, and the Common Good, 2011
"Crisis Communication: Ten Best Practices", University of Delaware, 2011
"Domino's Special Delivery: Going Viral Through Social Media", Association for Business Communication, Europe, 2010
"The Authentic Enterprise: Relationships, Values, and the Evolution of Corporate Communications", BMW Global Corporate Communication Conference, 2009
"Teaching with Cases: Using Participant-Centered Learning and Classroom Discussion to Achieve Your Learning Objectives", California State University Fullerton, 2007
"Merck & Company, Inc.: Communication Lessons from the Withdrawal of Vioxx", 10th Annual Conference of The Reputation Institute, 2006
"Merck & Company, Inc.: Communication Lessons from the Withdrawal of Vioxx", Arthur W. Page Society Conference on Corporate Communication, 2006
"Educating the Next Generation of Communication Professionals: Challenges and Opportunities", The Conference Board Council on Corporate Communication Strategy, 2006
"Merck & Company, Inc.: The Recall of Vioxx", Conference of the Association for Business Communication, Europe, Copenhagen Denmark, 2005
"Corporate Reputation and Brand Alignment: An American Perspective", Faculty and students of the Copenhagen Business School, Copenhagen, Denmark, 2005
"Getting Into Print: Strategies for Sharing What You Know", 2004 Conference of the Management Communication Association, 2004
"Managing Public Image and Stakeholder Interests: The Role of the Corporate Communication Officer", 7th Annual International Public Relations Research Conference, 2004
"Management Education and Case Method Instruction", Singapore Management University, 2004
"Wriitng a Case Study: Turning Business Problems into Learning Opportunities", 2004 Conference of the Association for Business Communication, Europe, 2004
"Martha Stewart Living Omnimedia, Inc.: An Accusation of Insider Trading", Seventh Global Conference on Corporate Reputation, Manchester Business School, Manchester, England, 2003
"Martha Stewart Living Omnimedia, Inc.: Accusations of Insider Trading", Sears Roebuck and Company, 2002
"Martha Stewart Living Omnimedia, Inc.: An Accusation of Insider Trading", The Boeing Company, 2002
"Faculty Honor Roll", Department of Management and Organization, Mendoza College of Business, 2020
"Arthur W. Page Case Writing Prize, First Place, Business Schools Category", The Arthur W. Page Society, 2020
"The Arthur W. Page Case Writing Prize, First Place, Business Schools Category", The Arthur W. Page Society, 2018
"The Arthur W. Page Case Writing Prize, Second Place, Business Schools Category", The Arthur W. Page Society, 2018
"Distinguished Service Award", Arthur W. Page Society, 2017
"Grand Prize, COMM PRIX Awards, Academic Case Writing", The Global Alliance for Public Relations and Communication Management, 2016
"The Arthur W. Page Case Writing Prize", Arthur W. Page Society, 2016
"The Arthur W. Page Case Writing Prize", Arthur W. Page Society, 2015
"The Arthur W. Page Case Writing Prize", Arthur W. Page Society, 2014
"The Arthur W. Page Case Writing Prize", Arthur W. Page Society, 2012
"Distinguished Publication on Business Communication", Association for Business Communication, 2010
"The Arthur W. Page Case Writing Prize", Arthur W. Page Society, 2010
"Arthur F. and Mary's J. O'Neil Director of the Fanning Center for Business Communication", University of Notre Dame, 2007
"The Arthur W. Page Case Writing Prize", Arthur W. Page Society, 2007
"The Arthur W. Page Case Writing Prize", Arthur W. Page Society, 2006
"The Arthur W. Page Case Writing Prize", Arthur W. Page Society, 2005
"John A. Kaneb Award for Excellence in Undergraduate Teaching", University of Notre Dame, 2004
"The Arthur W. Page Case Writing Prize", Arthur W. Page Society, 2003
"Gannett Foundation Teaching Fellow", Gannett Foundation, 1985