Kris Muir (He/Him)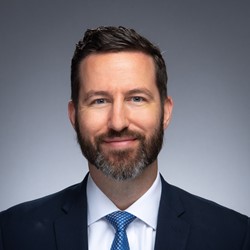 Academic Director of the Master of Science in Management (MSM) Program, Associate Teaching Professor
Management & Organization
574-631-3886
223 Mendoza College of Business
Kris Muir is an Associate Teaching Professor in the Management & Organization Department and since 2020 has served as inaugural Academic Director for the Master of Science in Management (MSM) Program. At Mendoza, Kris has taught graduate and undergraduate courses principles of management, transformational leadership portfolio, business problem solving, and fully-online versions of principles of management.

Prior to joining Notre Dame, Kris served as Academic Director for the Master of Science in Business program at Mays Business School (Texas A&M) and led workshops for the Center for Executive Development Global Programs on teams, decision making, and coaching and mentoring.

Aside from his work at Notre Dame, Kris stays busy raising two daughters with his wife, M&O Professor Cindy Muir.
"Success Files"
, Leadership & Reflective Learning, participated in video creation for Mays Business School for "Success Files" hosted by Rob Lowe.
http://tx.ag/AdvancingWorld
http://tx.ag/AdvancingWorld">http://tx.ag/AdvancingWorld>, October 1, 2018