Michael Chapple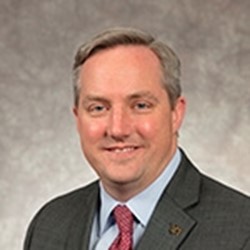 Academic Director of the Master of Science in Business Analytics (MSBA) program, Teaching Professor
IT, Analytics, and Operations
574-631-5863
334 Mendoza College of Business
Biography
Background
Publications
Books
Awards
Media
Mike Chapple is academic director of Notre Dame's Master of Science in Business Analytics program and teaching professor of IT, Analytics, and Operations where he teaches undergraduate and graduate courses in business analytics and cybersecurity.

Prior to joining the Mendoza faculty, Mike served as Senior Director for IT Service Delivery at the University. In this role, he oversaw the information security, IT compliance, cloud computing, data governance, IT architecture, learning platforms, project management, strategic planning and product management functions for the Office of Information Technologies. Mike led Notre Dame's Cloud First strategy which moved 83% of the University's IT services into the cloud over three years.
Mike previously served as Senior Advisor to the Executive Vice President at Notre Dame for two years. Prior to that, he was program manager of the University's Information Security Program.

Mike also previously served as Executive Vice President and Chief Information Officer of the Brand Institute, a Miami-based marketing consultancy. He spent four years in the information security research group at the National Security Agency and serving as an active duty intelligence officer in the U.S. Air Force.
Education
Ph D, University of Notre Dame
MBA, Auburn University
MS, University of Idaho
BS, University of Notre Dame
Areas of Expertise
Cybersecurity
Business analytics
Cloud computing
Technology leadership
IT compliance
Data privacy
"An Analysis of Firewall Rulebase (Mis)management Practices", (With John D'Arcy, Aaron Striegel), Journal of the Information Systems Security Association, 2009
"CompTIA Data+ Study Guide", (With Sharif Nijim), John Wiley and Sons, 2022
"PenTest+ Study Guide, Second Edition", (With David Seidl), John Wiley and Sons, 2021
"Cyberwarfare: Information Operations in a Connected World", (With David Seidl), Jones and Bartlett, 2021
"Systems Security Certified Professional (SSCP) Official Practice Tests, Second Edition", (With David Seidl), John Wiley and Sons, 2021
"Certified Information Privacy Professional, United States (CIPP/US) Study Guide", (With Joe Shelley), John Wiley and Sons, 2021
"Certified Information Systems Security Professional (CISSP) Official Practice Tests, Third Edition", (With David Seidl), John Wiley and Sons, 2021
"Certified Information Systems Security Professional (CISSP) Official Study Guide, Ninth Edition", (With James Stewart, Darril Gibson), 2021
"Security+ SY0-601 Study Guide, Eighth Edition", (With David Seidl), John Wiley and Sons, 2021
"Cybersecurity Analyst+ Practice Tests, Second Edition", (With David ), John Wiley and Sons, 2020
"Cybersecurity Analyst+ Study Guide, Second Edition", (With David Seidl), John Wiley and Sons, 2020
"Practical Machine Learning in R", (With Frederick Nwanganga), John Wiley & Sons
"PenTest+ Study Guide", (With David Seidl), John Wiley and Sons, 2018
"Certified Information Systems Security Professional (CISSP) Official Practice Tests", (With David Seidl), John Wiley & Sons, 2018
"Cybersecurity Analyst+ (CSA+) Practice Tests", (With David Seidl), John Wiley & Sons, 2018
"Cybersecurity Analyst+ (CSA+) Study Guide", (With David Seidl), John Wiley & Sons, 2017
"Certified Information Systems Security Professional (CISSP) Official Practice Tests", (With David Seidl), John Wiley & Sons, 2016
"Certified Information Systems Security Professional (CISSP) Official Study Guide", (With James Stewart, Darril Gibson), John Wiley & Sons, 2015
"Securing the Software Development Lifecycle", John Wiley & Sons, 2014
"Cyberwarfare: Information Operations in a Connected World", (With David Seidl), Jones and Bartlett, 2014
"Access Control, Authentication, and Public Key Infrastructure", (With Bill Ballad, Erin Banks), Jones and Bartlett, 2013
"Symantec Certified Security Professional Study Guide", (With Kirk Hausmann), Addison Wesley, 2005
"Information Security Illuminated", (With Michael Solomon), Jones and Bartlett, 2004
"GSEC Prep Guide: Mastering SANS GIAC Security Essentials", John Wiley & Sons, 2003
"Designing Windows 2000 Directory Services", (With Bruce Parrish), Thompson, 2002
"MCSE CoursePrep Exam Guide: ISA Server 2000", Course Technology, 2002
"TICSA Training Guide", (With Debra Shindler), Que, 2002
"Presidential Achievement Award", University of Notre Dame, 2008