Sharif Nijim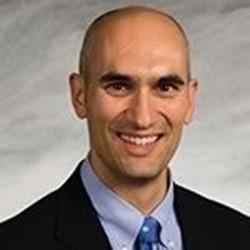 Academic Co-Director of the Master of Science in Business Analytics (MSBA) Residential Program; Associate Teaching Professor
IT, Analytics, and Operations
574-631-5545
336 Mendoza College of Business
Sharif Nijim is an assistant teaching professor of IT, Analytics, and Operations in the Mendoza College of Business at the University of Notre Dame, where he teaches undergraduate and graduate courses in business analytics and information technology. His main areas of focus include cloud computing, analytics, and enterprise architecture.

Immediately prior to becoming part of the Mendoza faculty, Sharif served as the Senior Director for IT Service Delivery at the University of Notre Dame's Office of Information Technologies. In this role, he was part of the senior leadership team for the Office of Information Technologies and oversaw data stewardship, information security and compliance, learning platforms, product services, project management, and enterprise architecture.

Prior to Notre Dame, Sharif was the Director of Quality Assurance and Special Projects for TravelCLICK, a provider of revenue-maximizing solutions to the hospitality industry. Sharif previously co-founded and served on the board of a customer data integration company, serving the airline industry. Sharif also spent over a decade building and performance optimizing enterprise-class transactional and decision support systems for clients in the logistics, telecommunications, energy, manufacturing, insurance, real estate, healthcare, travel and transportation, and hospitality sectors.
Education
MS, University of Notre Dame
BBA, University of Notre Dame
Areas of Expertise
Cloud Computing
Data Analytics
Information Technology