Tahra Taylor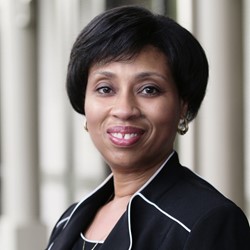 Associate Director, MBA Career Development
Career Development
574-631-2082
528J Duncan Student Center
Tahra Taylor is an Associate Director of Graduate Business Career Services for the University of Notre Dame, where she meets with the Mendoza College of Business MBA students one-on-one and in groups to explore, pursue, and obtain their individualized career goals. She also liaises with student clubs in support of student learning opportunities. She has a passion for helping students create strategies for success in the job search process.
Prior to joining the University of Notre Dame, Tahra was the Human Resources Director for the National Diversity Council. She built her vast human resources experience with The Dallas Morning News and Fortune 500 companies, including AmerisourceBergen Corporation, Texaco, Inc., and Entergy Services, Inc. At these organizations, Tahra directed performance effectiveness for her client groups through talent development, succession planning, employee engagement, talent acquisition, diversity and inclusion, and performance management. She also worked at Mercer, LLC in the area of compensation and served in the Peace Corps as a Business Advisor in Guatemala. She was on the Board of Directors for Literacy Instruction for Texas (LIFT) in Dallas for six years in various leadership positions, including President.
As a native of New Orleans, Tahra earned a Master of Business Administration from Tulane University and a Bachelor of Science in Mathematics from Xavier University of Louisiana. She is certified as a Senior Professional in Human Resources (SPHR) through the Human Resources Certification Institute and a SHRM Senior Certified Professional (SHRM-SCP) through the Society for Human Resource Management.